Race Info
---
Registration Includes
A portion of each entry will be donated to trail maintenance in the Capitol Forest.
Access to fully-stocked and fun aid stations staffed by our incredible volunteers.
Hand-crafted finisher keepsake by Olympia artist Trixy Eichler of Trixwithay.
The top female and male Legend of Rock Candy will get a unique award.
We plant a tree for each finisher. Learn more.
Limited edition race sticker.
Access to sponsor swag raffle.
Finish line high fives and/or hugs from race director.
Safety and medical support.
An unforgettable and brutally fun adventure run in the Capitol Forest.
---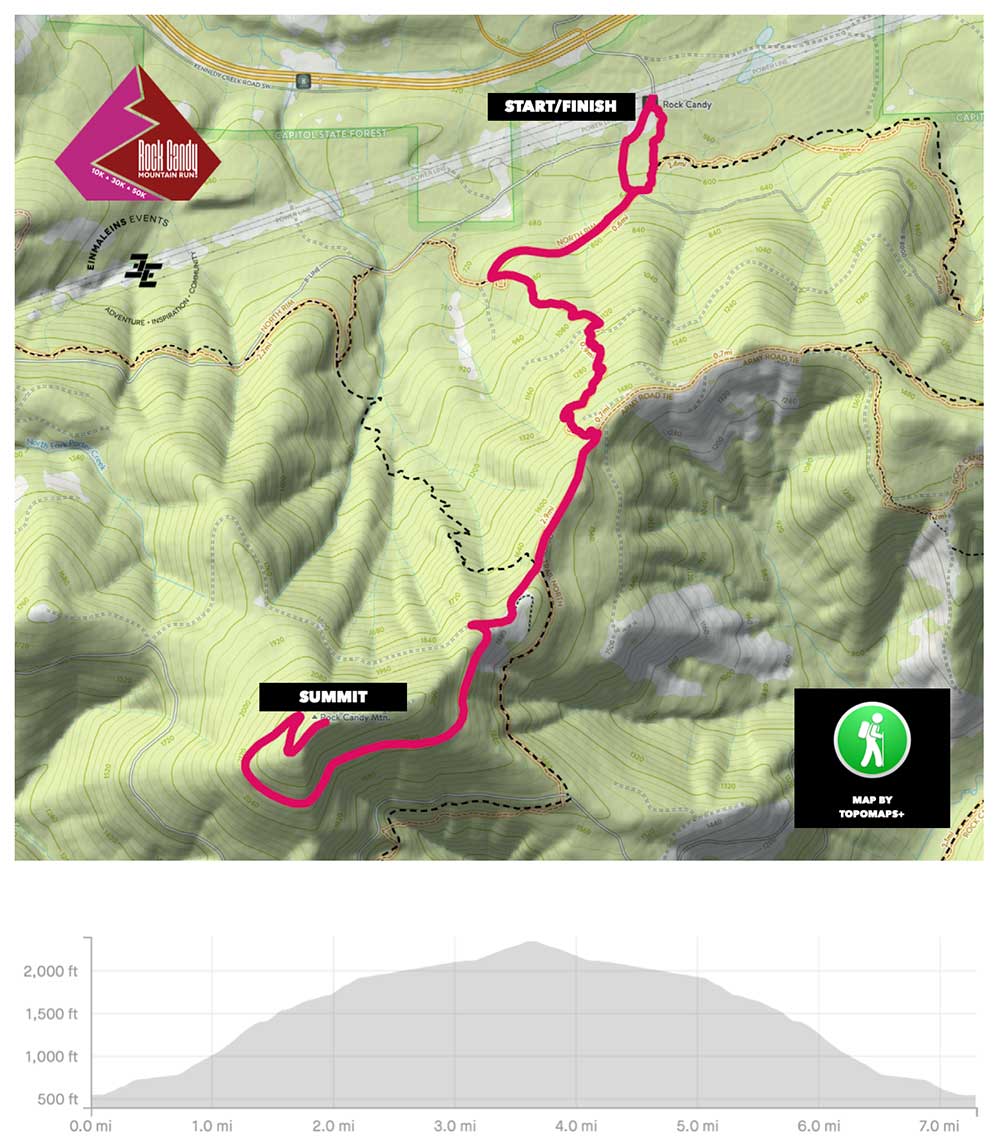 Click to enlarge
THE COURSE
The race course is out-and-back course. It's steep. With a mix of terrain.
You will climb 1,800 ft. in about 3 miles to reach the summit of Rock Candy Mountain. From there its all downhill.
All racers will run the same route, some just more often than others.
The course will be marked well with ribbons, signage and other visible markers. Consult the map for exact details for the course.
We will have a full aid station at the start/finish line and a water station at the summit turnaround.
You must check in at the summit with the aid station staff, failure to do so will result in a DNF.
---
PREVIEW THE COURSE WITH US
Join our Strava group to stay up to date with upcoming opportunities to explore the coursessss...
---
---
Discover Pass
To park at the trailhead starting line you need a WA State Discover Pass.
DNR Waiver
Super important! You must fill out this waiver (coming soon) and bring it with you. No bib will be handed out without a filled out waiver. Yes, we will have extra on race day.
Race Day Package Pickup
Race packets can be picked up on race day starting at 4:30am at the race headquarters at the Rock Candy trailhead.
Parking
There is a good sized parking lot at the Rock Candy trailhead. Please carpool if you can to the start line.
Zero-Waste
The Rock Candy Mountain Run is a cupless race. Bring a collapsible cup for fluids at the aid stations. In our effort to reduce waste we will have very few trash cans at the event. We aim to recycle an and compost most of our waste. Please be mindful of our environment.
Weather
The Rock Candy Mountain Run will take place on September 17th, so it could be warm or not, this is the Pacific Northwest after all. You're running almost entirely in the forest, so it won't be insanely hot.
Share the Trail
The trails around Rock Candy Mountain are mixed use and there's a good chance you will encounter moto & mountain bike user and hikers. Please be respectful of all user and share the trail.
---
Directions to Rock Candy Mountain
10517 Rock Candy Mountain Rd SW - Olympia, WA 98512
From Olympia
From Olympia take US-101 North toward Aberdeen.
Stay left on SR-8 W toward Montesano, Aberdeen and Ocean Beaches.
After 4+miles take a left! (opposite of Summit Lake Rd NW) onto Rock Candy Mountain Rd SW
The parking lot is just a a couple hundred feet further along the gravel road.
Don't forget your Discover Pass!
From Seattle or Portland
Take I-5 to Olympia.
From I-5 take Exit 104 in Olympia and merge onto US-101 North.
Follow directions from Olympia.
---
From Grays Harbor County
Take SR-12/SR-8 toward Olympia
Take right onto Rock Candy Mountain Rd SW
---
---
ETIQUETTE AND RESPECT
On race day, racers must respect the direction and authority of the race director, race organization, volunteers and DNR staff.
We are all sharing the Capitol Forest, so be kind to anyone you encounter and help showcase why the trail running community is so awesome!
No short-­cutting of any kind. We have eyes out on the course and if you cut a section, you will be disqualified and banned from future races.
Do not litter. At all. Ever. While we can only monitor the course and not your entire life, if we catch you littering, you will be disqualified and receive a lifetime ban. Bonus high fives/hugs for all who pick up trash.
Please use the bathrooms at the trailhead/parking lot. Keep them as clean. We are guests in the Capitol Forest and hope to return year after year.
No dogs, baby joggers, or other "accessories" are allowed on the race course.
Stay on the trail when you can. We ask that you stay to the trails to limit our impact on the vegetation.
If you come across an injured runner, you must stay with that person until medical attention arrives. Failure to do so may result in a disqualification.
Slow runners must yield the trail to others wishing to pass. Be alert and conscientious of other runners.
Please, no headphones. For big sections of the course the trail is too narrow and you need to be aware of other runners.
Non-­participants may NOT accompany registered runners along the course for any reason.
Dropping Out: If you find it necessary to drop from the race, you must do so at the aid station. Notify the aid station captain and make sure they get your bib number. Please do not leave the course without notifying an aid station captain. If we can't account for your whereabouts, we will assume you are missing and launch a search party.
Race Staff has permission to pull any runner from the event due to injury or another reason that the runner should not continue. We are looking out for your safety, trust us.
---
Rule Violations
Participants are expected to behave in a sportsmanlike manner. The Race Management team reserves the right to impose infractions for any reason, even ones not mentioned here. This could be in the form of a DNF issued, or a lifetime ban.
Official protests of infractions and rule violations must be made directly to the Race Directors on race day. If a case of unclear or contested infractions occur, a jury of available racers, volunteers and race marshals will be gathered to discuss what the appropriate action may be. All decisions may be vetoed by the Race Directors.
RULE VIOLATIONS INCLUDE, BUT ARE NOT LIMITED TO:
Short-­cuts taken on any section of the course. The route is well-marked, so follow along and enjoy the path we created. We like and know you will too.
Disobeying the directions of Race Management and/or race volunteers.
Littering. Leave the trail cleaner than you found it. Carry trash with you until you get to the aid station garbage can.
Having a pet on the course.
Failing to remain at a checkpoint or the aid station for a medical evaluation.
Blocking another runner in any section of the course.
A LIFETIME BAN WILL HAPPEN IF:
Failing to respect private property or the other users of the park. Be a trail running ambassador. Not a trail run ass.
Running without a number or using someone else's number.
Littering. Yes, this is a huge deal.
Abuse, either verbal or physical, against anyone in, on or around the course. Be kind. Enjoy the run. Be an upstanding citizen of the trail running community.
---
The Fine Print
Registration is non-transferable, and no credits will be issued for any reason.
Race entry cannot be deferred to a future year, except if you become pregnant. Please contact us for details.
There will be no waitlists or refunds available.
---