THE COURSE
Both races begins and end at Big Creek Campground.
The summit race is about 14 miles and leads on the Mt Ellinor trail from Big Creek campground to the actual summit of Mt Ellinor with a total elevation gain of over 5,000ft. There you turn around and head back to where you came from. The upper section of this trail is gnarly!
The Forest Race loops along the Big Creek trail with a much more manageable elevation gain of about 1,200ft in 5 miles.
Thanks to the efforts of the Mt. Rose Trail Crew, the track is in wonderful condition. Potential hazards include yellow jackets and horseflies the size of helicopters. Despite the danger, we ask that everybody remain on the trail (as long as it is safe to do so) to avoid any resource damage. The only exception to racing off the trail is for the summit racers on the summit block only. Once the summit block is reached, feel free to scramble it directly or follow the trail to the top if you wish. Once you leave the summit block for the descent, do your best to not stray too far off the trail on the way down.
There may be some mountain goats roaming about the upper slopes of Mt. Ellinor. The Forest Service is asking us to pass on some tips on spending time amongst them:
Give them plenty of space.
Don't feed them.
Absolutely don't be aggressive toward them. You will lose.
CUTOFF
We are asking you to be back at the finish in ~6hrs. The spirit of our event is that you get to the summit and back as fast as you possibly can; this is an athletic endeavor and a test of fitness rather than a hike. No cut-off is enforced for the short course.
Zero-Waste
The Rock Candy Mountain Run is a cupless race. Bring a collapsible cup for fluids at the aid stations. In our effort to reduce waste we will have very few trash cans at the event. We aim to recycle an and compost most of our waste. Please be mindful of our environment.
Weather
Beast of Big Creek will take place on Auguust 5th, so it could be warm or not, this is the Pacific Northwest after all. You're running almost entirely in the forest, so it won't be insanely hot.
Share the Trail
The trails are open to all other forest users on race day. Most everybody will be stoked to see you out there.
PREVIEW THE COURSE WITH US
Join our Strava group to stay up to date with upcoming opportunities to explore the courses.
PACKAGE PICKUP
Race packets can be picked up on race day starting at 7:00am at Big Creek Campground Loop A+B.
PARKING
We will be using loops A and B for the majority of our parking. Use the shoulders in those camp loops and display a pass. Day passes are 5 bucks and purchased in the main parking lot if you don't have a federal lands pass already. If we fill the camp loop roads, we can park in the main lot or out on the main road outside the campground. Don't block any roads or camp sites. Vehicles need to be able to use all roads we park on.
CAMPING
Camping spots are all filled up and spoke for, please reach out with any questions
Loops A and B are reserved for our event. There are currently 11 vacant sites in those loops. There are gates on Loops A and B with signs that say closed for a recreation event this weekend. You all are that recreation event. Fee is $20 per night. The remainder of Big Creek Campground will be mostly full. Things are busy in Hoodsport so established camping will be scarce.
DIRECTIONS TO Big Creek
Address: Big Creek Campground, Hoodsport, WA 98548
FROM HOODSPORT
In Hoodsport turn left onto SR-119. The Big Creek campground is at the T-intersection where the Staircase and Mt. Ellinor roads meet.
FROM I-5 and Olympia
Take Exit 104 and merge onto US-101 N toward Port Angeles, Aberdeen. Keep right onto US Hwy 101 NW toward Shelton, Port Angeles and head to Hoodsport. In Hoodsport turn left onto SR-119. The Big Creek campground is at the T-intersection where the Staircase and Mt. Ellinor roads meet.
From Northern Peninsula
Head south on US Hwy 101 NW toward Shelton and Hoodsport. In Hoodsport turn right onto SR-119. The Big Creek campground is at the T-intersection where the Staircase and Mt. Ellinor roads meet.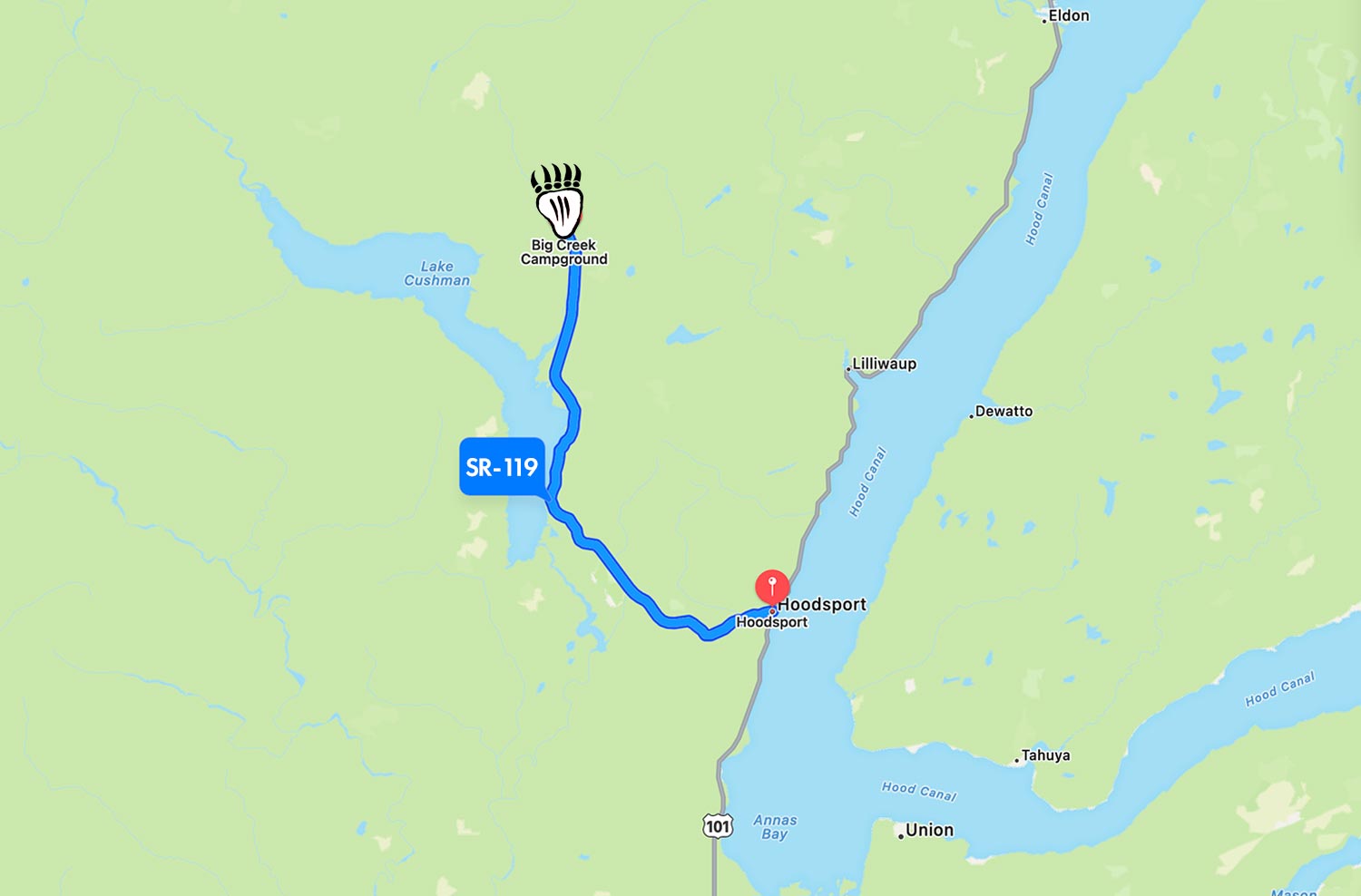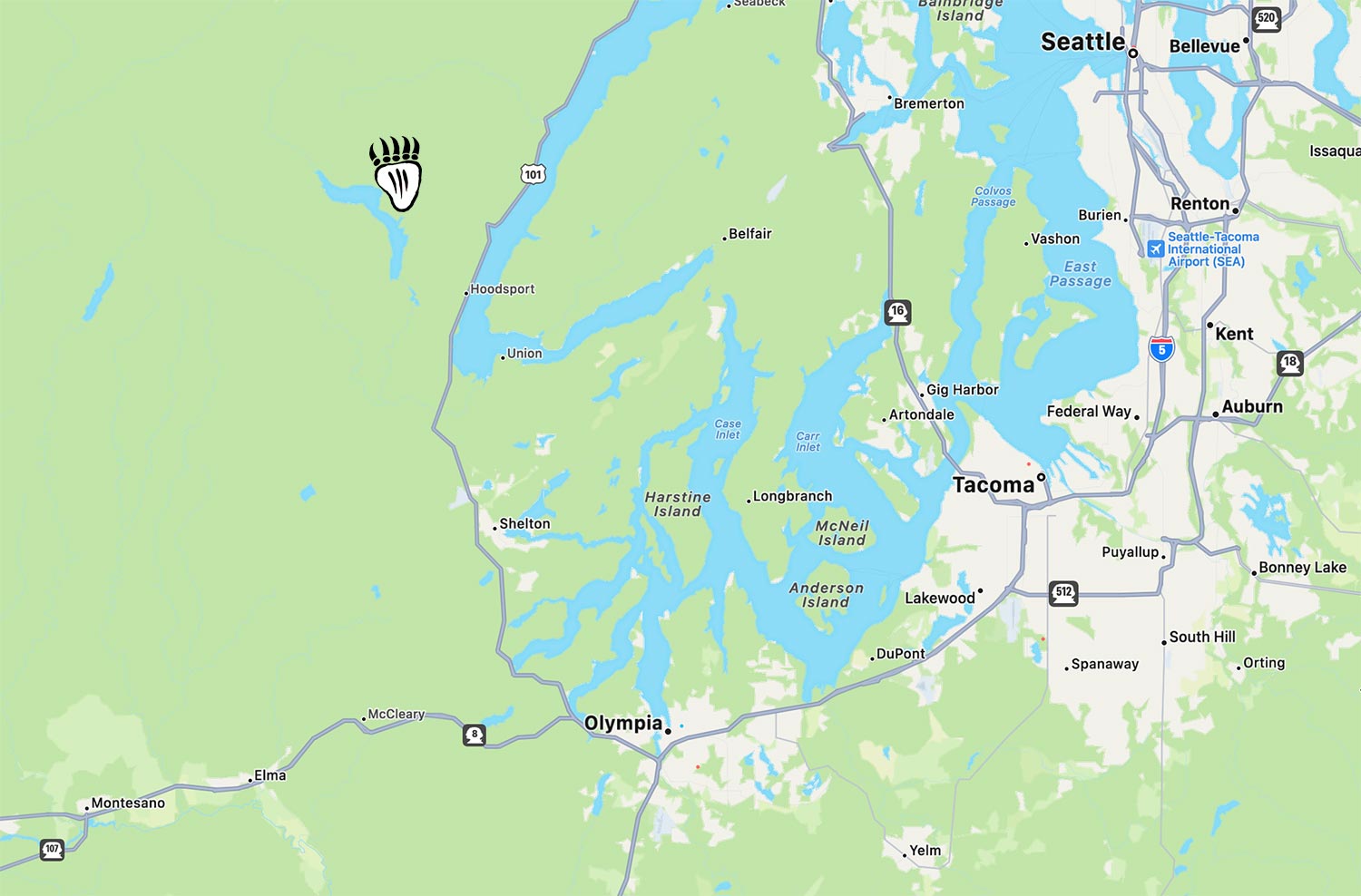 PUBLIC LANDS USE
The Beast of Big Creek Trail Race is operating under a special use permit from the USDA - Forest Service on the Olympic National Forest. Our experience working with the Forest Service these past 11 years has been nothing but positive. Big ups to these dedicated professionals who truly want everybody to enjoy and protect our public lands.
And a honorable mention to the amazing Mt. Rose Trail crew for keeping up these amazing trail.
---
---